Composite Decks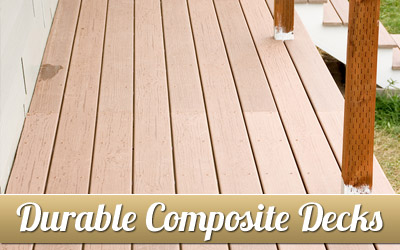 If you're thinking about adding a composite deck to your home in Atlanta, Sandy Springs, Marietta, Decatur, Alpharetta, Duluth, Johns Creek, Roswell, Kennesaw, Cumming, Norcross, Lawrenceville, and Smyrna, Georgia consider Deck Builder America, the best installation company in the area. Because of its many benefits, composite materials have become a very popular style for homeowners. There are many advantages for composite materials that can provide more effectively than other types of deck building materials. Both durable, long lasting, and pretreated, these panels are some of the best in today's market. With Deck Builder America, you can count on our first hand experience to deliver a quality composite deck that will give the same result as any designer magazine.
One of the main benefits of composite decks is that they're made from a blend of wooden and plastic materials. This gives your new installation very smooth finish that will never have any kind of inconvenient splintering. This also means that you don't have to worry about having rough patches on the deck which could cause an injury to you or another loved one. There are a wide variety of composite styles, patterns, textures, and colors to choose from that keeps your creativity and possibilities endless. There are even composite decks that imitate real wood! This means that you can get the look of a real wood without all the necessary maintenance and finishes. If this sounds like the deck for you, then you came to the right place! We offer composite deck installation in Atlanta, Sandy Springs, Marietta, Decatur, Alpharetta, Duluth, Johns Creek, Roswell,Kennesaw, Cumming, Norcross, Lawrenceville, Smyrna and other surrounding areas of Georgia. Give us a call at 404-382-9442 or Contact Us Today!.
Deck Contractors
Our deck contractors offer composite designs and building services at very affordable prices. Some homeowners believe that this kind of material is more expensive to install than other building materials. However, they are all completely comparable! Depending on your size, additions, structure layout, and floor planning, composite may actually be a cheaper alternative. For more a free estimate contact us today at 404-382-9442 and see what we can do for you! We work with all of our clients so that no price is too much for you to enjoy your brand new deck. Contact Us Today!
With our free estimate services we send out our most knowledgeable, professional, skilled, and experienced deck contractor to your home to evaluate the property. He will make note of any trees which need to be trimmed or removed, as well as how much space is available for the deck you want to build. All aspects are considered so that we can work not only around your creative ideas and input into the design of the deck, but the budget that you have to work with.
Benefits of Composite Decks
There are many benefits to composite decks, such as:
Composite materials are eco-friendly. There aren't any chemicals sprayed or brushed on the material every year as is the case with wood materials. Often, these stains and sealants aren't very good for the environment. Also, the composition material has recycled materials in it, so you're lessening the amount of trees which need to be cut down and the amount of plastic which has to be produced.
Composite will never have to be painted. This type of material is available in many different colors, textures, and patterns. It will keep its color and you won't ever have to repaint it to keep it looking great.
Composite won't ever bend, warp, chip, or have splintering.
Composite can add a lot of value to your property. Whether you want to sell your house in 2 years, 5 years, or in 10 years, your new deck will still look great for prospective buyers.
Composite doesn't get damaged from termites or any other bugs.
Contact us to learn more about having a composite deck designed and built for your Atlanta, Sandy Springs, Marietta, Decatur, Alpharetta, Duluth, Johns Creek, Roswell, Kennesaw, Cumming, Norcross, Lawrenceville, and Smyrna, Georgia. We look forward to hearing from you soon and helping you to build the deck of your dreams!