Deck Arbors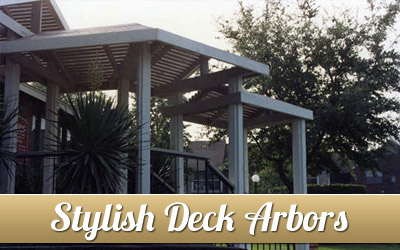 Deck Builder America offers beautiful and eye-catching deck arbors for home owners living in Atlanta, Alpharetta, Marietta, and Cumming, GA looking to have a little more pizazz in their new addition. Arbors not only act as a shade feature to protect against the sun on a summer day, but also provide an exquisite sculpture and design. Our arbors are very similar to pergolas, but they aren't as enclosed and don't look like a separate 'room' on the structure which gives you a much more vast and open space. Here at Deck Builder America we believe your new extension is more than just an addition to your home, but an addition to your way of living. Open space is a key feature that arbors possess and continues to impress home owners and neighbors alike.
Our deck arbor designers will work with you to determine what style will work best with what you plan on using it for. There are a lot of homeowners who want to have an arbor installed so they can grow hanging plants and pottery. They also choose to have a trellis installed on the side of the arbor to allow for vine-type plant growth- a lovely addition for any family looking for a more 'garden' type deck. If you are a plant or garden lover, this could be the look you're going for. Your plants will receive abundant sunshine and fresh air in this arbor, and the louvered top will allow rainwater to pass through and onto the plants. Sound like the perfect addition? We can help! We offer our excellent deck arbor services in Atlanta, Sandy Springs, Marietta, Decatur, Alpharetta, Duluth, Johns Creek, Roswell, Canton, Kennesaw, Cumming, Norcross, Lawrenceville, Smyrna and other surrounding areas of Georgia. Give us a call at 404-382-9442 or Contact Us Today!.
Arbor Deck Designs
There are countless arbor deck designs available to you. You have the ability to customize every detail of your new arbor, including what you want the louvered top to look like. Our deck designers have been building these features for many years now in the greater Atlanta area, and we guarantee you'll be pleased with our work.
We have an outstanding reputation in the Atlanta area for providing homeowners with dependable, quality, professional, and prompt deck building services. If you and your family are wanting to add a deck arbor to your existing wooden deck, let us help. We look forward to hearing from you soon, so call us today! A deck specialist is on staff and will be able to address any questions or concerns you may have.