Deck Inspections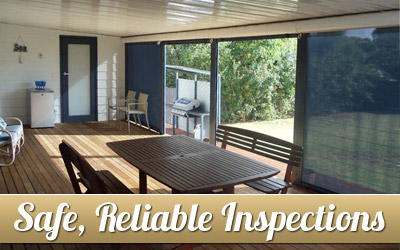 Deck Builder America offers thorough deck inspections in Atlanta, Alpharetta, Marietta, and Cumming, GA which are necessary to make sure that your new addition is safe and secure for you and your family. During these inspections, our certified company will be able to pinpoint any areas of rot, warping, decay, insect damage, or any other kind of problems which could cause your deck to be unstable or unsafe in any way. If you are installing a brand new addition, our inspections come free with your package, so that when we leave your home you have a finished structure ready for enjoyment.
Deck Inspections are a necessity in today's carpetry and building market where some contractors may not have the required skill set to create a sturdy and reliable home extension that won't cause any problems. Here at Deck Builder America we not only install great outdoor decks, we inspect them for you to make sure all aspects had been accounted for and taken care of. Nothing is left undone or unnoticed no matter if you have an older structure or a brand new one. We offer the best deck inspections in Georgia, servicing all residents in Atlanta, Sandy Springs, Marietta, Decatur, Alpharetta, Duluth, Johns Creek, Roswell, Kennesaw, Cumming, Norcross, Lawrenceville, Smyrna and other surrounding areas. Give us a call at 404-382-9442 or Contact Us Today!.
Deck Safety and Precautions in Georgia
Deck Builder America has a team of experts who are well-versed in deck safety and precautions which need to be followed to make sure that anyone who enjoys time on your new home extension isn't going to get hurt. During our deck inspection, we will make sure that the ledger board which attaches your deck to your home is strong and isn't showing any signs of decay or rot. We will also be sure that floor joists are properly spaced and attached securely to beams so that your structure remains stable.
With deck safety tt's also important to have guard rails on all sides and along any raised areas, such as balconies. All decks which are 30" above the ground will need to have railing in place. These rails will need to be about waist high and should be securely in place. We will inspect these rails for any kind of moisture, insect, or weather damage. When it comes to your deck stairs, they should all be equally spaced apart in height. The minimum tread width or depth for each stair is 10". Handrails should be a minimum of 34" high and no higher than 38".
For more information about having a deck inspection at your home, please call us today to schedule an appointment!