Deck Maintenance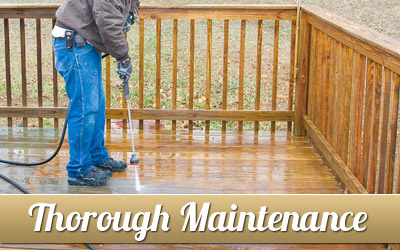 Regardless of what kind of addition you have - wood, composite, or vinyl - you will need deck maintenance to make sure it continues looking great for many years to come. Deck Builder America has a staff of professionals located in Atlanta, Alpharetta, Marietta, and Cumming, GA who know the ins and outs of deck design, building, and maintenance. We can help you take care of whatever kind of home extension you have, and we'll make sure it looks clean, beautiful, and inviting.
Wood decks need maintenance that requires a little bit more professional care than other types of home additions. They will need to be sealed and stained to help protect them from termite damage and weather if the first coat has worn off. If you don't know what kind of sealant or stain works best for the type of wood you have don't worry! This is why it's so important to work with our deck maintenance professionals at Deck Builder America. You might have a pine, cypress, larch, mahogany, or some other type of timber material. There are certain sealants and stains which will work better based on the type of wood deck you have. We know this information thru and thru, and is another reason why we have such a great reputation from our clients living in Atlanta, Sandy Springs, Marietta, Decatur, Alpharetta, Duluth, Johns Creek, Roswell, Kennesaw, Cumming, Norcross, Lawrenceville, Smyrna and other surrounding areas of Georgia. Give us a call at 404-382-9442 or Contact Us Today!
Deck Power Washing
Deck Builder America offers deck power washing to help get your deck sparkling clean. Throughout each season of the year, the weather can cause the build-up of nasty, hard to remove grime and film on your deck. The best way, and the only way, to effectively get rid of this dirt is to have it power washed. We know that there are homeowners out there who think they can rent or buy a power washer from a local hardware store and take care of the work on their own. However, this is not the case! If you don't know what pressure to use on your deck, you could seriously damage it and then you'll need expensive repairs.
Please contact us to learn more about deck maintenance or to schedule an appointment with us. We are looking forward to working together with you in the near future!