Deck Railings & Fencing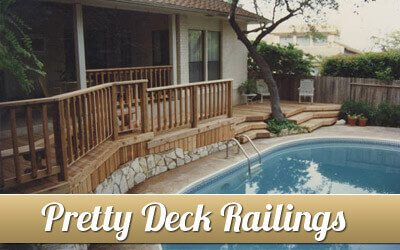 When it comes to deck railings and fencing, Deck Builder America provides many different options available to home owners living in Atlanta, Alpharetta, Marietta, and Cumming, GA. Our professional carpenters understand that you want your deck to be both stylish and functional. That's why we offer so many different rails in various colors, styles, materials, and textures. Regardless of how big or small your new addition is, it's important to work with a professional deck designer like Deck Builder America to make sure that your rails and fencing are properly installed to provide a boundary for your family that will be using your new home extension. Deck rails can act as a safety feature and will prevent people from slipping or accidentally falling off the side of the deck.
When it comes to deck railings, there are many different considerations to keep in mind. You'll have to think about what kind of material you want to use, what style will work best, and you'll also need help working through all the details of the project. If you need new railings for your new or old addition, then you've come to the right place. We offer premium services to all residents living in Atlanta, Sandy Springs, Marietta, Decatur, Alpharetta, Duluth, Johns Creek, Roswell, Canton, Kennesaw, Cumming, Norcross, Lawrenceville, Smyrna, and in many other surrounding areas in Georgia.Give us a call at 404-382-9442 or Contact Us Today!
Deck Fences
Deck rails are often referred to as deck fences. They will work as a safety feature for your new addition to make sure nobody gets hurt while enjoying their time on this home addition. Deck fences are especially important when you have young children who will be out playing on the deck on a regular basis.
Your deck fence style will also have to be considered. Do you want straight, wavy, or fences with embellishments added at each post? We will be sure that we design guard rails and fences which won't clash with the rest of your deck. When designing your deck rails and fences, you will need to have us help you work through all of the details. What color do you want? Do you want different colored posts? Do you want to add post coverings or post caps? All of this will need to be worked out in the design process at no extra cost.
Feel free to contact our local office for more information about having guard rails and fences designed and built for your home.